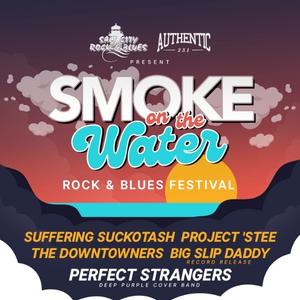 Smoke on the Water

The Smoke on the Water is a celebration of the region's community. All proceeds go to current community projects to enhance and better our community. Our current project is a beautiful state-of-the-art iconic amphitheater to be built on the shores of Lake Michigan.
Tickets are $20 + a $1 processing fee. A limited number of tickets are available.
Tickets are $30 at the door.
There will be a 6-foot fenced-in area with privacy screening for Marijuana consumption. This will allow people to consume in total privacy. Please note that events will occur in rain or shine.
Performance Times
5:00-6:00 | Sufferin' Suckotash
6:15-7:15 | The Downtowners
7:30-8:30 | Project 'Stee
8:45-9:45 | Big Slip Daddy
10:00-11:30 | Perfect Strangers
(Music by D.J. Skeezy between sets.)
Want to volunteer? Click here!
DO NOT HIT THE BACK BUTTON WHEN ORDERING AS YOU MAY GET A DUPLICATE ORDER.